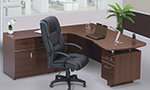 by admin |September 9, 2017 |3 Comments | Office Furniture | office chair
Are you looking for an ergonomically effective office chair? Then, you have come to the right place. We facilitate the sale and purchase of high back chair. While working, at the desk, the back should be in its zone of comfort. The chair with its high back rest serves as a supportive shield to the users back, thus preventing the back from straining.
We have used high-quality materials
The outer cover of the chair, arms and the body is based on plastic. We have made it a point to use durable materials of superior quality. The chair's base and the gas lifter have been made of castors. The arm and the controls have been made of plywood sheets. We have used PU foam and polyester fiber to do up the upholstery fabric. Latherette has been used to give the finishing touch to the chair which has a sleek look to offer.
Includes user-friendly features
The presence of the high back support proves to be advantageous. In between work, or while working on the personal computer, you can rest your back and prevent it from getting strained out. Likewise, the presence of the gas lift adds to the user friendliness of this ergonomically designed office chair. Gas lift helps you to adjust the height of the chair, and if the height is adjusted, the body parts don't get strained out.
Comfortable strong and elegant
While working, at the desk, you can also use the arm rest to your advantage. The chair also comes equipped with wheels which facilitate revolving. You will have no difficulty in turning back, that's because the chair facilitates convenient movement, from one place to the next.