Home or Office Furniture; Damro Provides the Best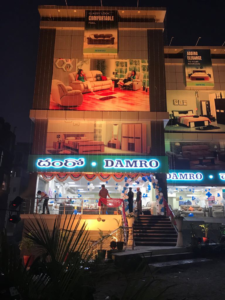 Gachibowli – Hyderabad – Telengana – India – 30.01.2018 – Gachibowli is one of the major information technology suburbs in Hyderabad and South India. In close vicinity within 5 km distance is the HITEC City that is another IT hub. Over the last few years Gachibowli has developed into one of the top software hubs of the country and several IT companies have set up their offices and employees colonies here.
For enjoying either the residence or office and making it fully functional it is necessary that quality furniture is used. It brings up the necessity for finding one of the top furniture providers that can provide both classic as well as contemporary furniture and can also provide anything for homes and offices. Most important is finding a provider that can provide appropriate and quality furniture for any part of the office or workplace.
Chambers, workshops, Conference halls, lounge, office room, or for supporting the equipment's, Damro India is one provider that provides the best furniture for you. All the furniture they provide is highly qualitative, extremely designer, and durable. They are also such that they make the office or workplace totally functional. Information technology establishment are technical domain and the furniture required are special in nature. One of the best parts of it is that Damro India provides excellent facilities for customization of the required furniture according to the requirements and budget of the customer. Whatever your needs might be you can depend on the company on quality, durability, and functionality with closed eyes.
Requirements of meeting the demand for furniture in a commercial and industrial hub could be truly challenging. But Damro India has risen up to the challenge quite excellently. In the past they were catering to the needs of the buyers by accepting orders online and the process is still alive but later realizing the necessity of a brick and mortar showroom at the place they opened up the showroom at Gachibowli and today it is one of the most sought-after furniture in Hyderabad.
"We at Damro India provide classic and contemporary furniture at most competitive prices for domestic and commercial use by our clients. We ensure that in the process you get the best returns on investments made", says the sales manager of the company.
"You can place orders with us online or visit our well accomplished show room for buying furniture", he concluded.
About Damro India
DAMRO is among South Asia's Largest Furniture Manufacturers offering a diverse range of modern and traditional furniture. Since Damro was established in 1986, it has achieved a rapid success and has expanded to over 200 showrooms. Damro's success has grown from it's ability to produce high quality furniture at affordable prices with outstanding customer service.
Contact Information
DAMRO FURNITURE PVT LTD
Hyderabad – Gachibowli
No.104,Opp. My Home Bhooja,
Gachibowli, Hyderabad – 500081.
Tel.- 040-29705964, 29705965.
Toll free customer care number – 1800 425 1122
Email id – service@damroindia.com