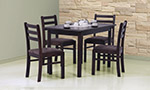 by admin |September 9, 2017 |0 Comments | Dining Room
If space is a cause of constraint; then, you have reasons to install solid wood COOPER 6 PIECE DINING SET The piece has an exquisite look to offer. By using it, in the company of your friends and family members, you will have an experience of a different kind, something worth treasuring for years to come.The set is ideal for the family of four. It consists of four dining chairs, one table, and one bench in which to lay out the food.
Compact and cozy
It looks compact and complete. With it, you can make up for the paucity of space. The table is of Width-1520 mm, Depth – 920 mm and Height – 770 mm. So, you can well understand how the table serves as a perfect fit in a relatively smaller area. The look and orientation of the table is such that you can use it effectively to cover the defect caused by the lack of space.
The dimensional specifications
The table has four matching chairs, and the dimensional measurement of each is Width – 480 mm, Depth – 460 mm, Height – 910 mm.  Chairs and the tables complement one another perfectly. Cooper bench is of Width – 480 mm, Depth – 460 mm, Height – 910 mm.
The other unique features
While designing the COOPER DINING SET, we have made it a point to use the Sheesham Wood (solid wood) to make it robust and long duration. Visit our page